I was born on 25 March 1969.
When I was a child, we spent a great deal of time with my father's family. We saw the cousins and aunts and uncles at Thanksgiving and Christmas, of course, but we also saw them several other times a year, often several times a month. My Uncle Norman lived fifteen miles from our house, and my Aunt Virginia lived maybe 35 miles away. My grandparents lived just down the road, about a quarter of a mile away.
When my grandmother died on 3 July 1981, this family closeness began to fade; she was the glue that held everyone together. The family still saw each other on holidays, and maybe once or twice during the year, but the regular get-togethers didn't happen anymore. After my grandfather died in 1991, the family didn't get together at all.
My Aunt Virginia is now moving from Estacada to Idaho. She decided she'd like the family to get together once more before she went away. Last Sunday, we met at her daughter's home in Oregon City. Nearly everyone that could show up did so. It was fantastic.
The gathering brought back a flood of memories. I sat entranced, listening to Virginia tell stories of the family's history, stories that are doomed to disappear if steps are not taken to preserve them. Her daughter Laurie has pressured her for some time to write these stories down. I voiced my support for this plan, too, and may even seek to tape-record some of Virginia's stories at an upcoming family reunion (an annual reunion that I've always avoided in the past, but will attend this year).
Virginia also brought a box of photo albums. She allowed me to borrow four of them, and I'm scanning a few pages each night. There are photos here that I've never seen, photos that reveal parts of the family character of which I was unaware. It's very exciting for me to delve into the family history.
Why, though? This kind of thing has only been of marginal interest for me in the past. I understand that history becomes more appealing to me as I get older, but I never realized personal history would have the greatest appeal of all.
Here is a picture of my grandmother, Lola, as an infant, with her parents Levi Sharp and Cora (Byler) Sharp on the porch of their home in Missouri: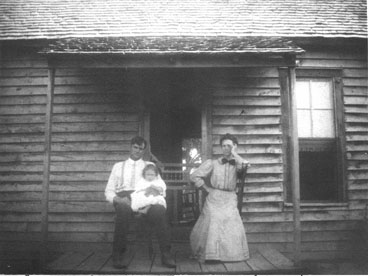 This picture is probably from 1908. Cora is holding her hand to obscure part of her face. When she was a girl, older than fourteen but younger than eighteen, she got a severe case of poison oak or poison ivy on her face. A traveling salesman came 'round and sold her a remedy. She applied the remedy, which of course was a sham, and it disfigured her face. The right side of her face remained beautiful, the left side of her face was scarred and distorted. Thereafter, in nearly every photograph, she took care to hide the disfigurement by obscuring it with her hand.
---
Over the course of the past several weeks, I've played Blizzard Entertainment's Starcraft from start to finish. This is the second time I've played the single-player missions, and I enjoyed as much as (if not more than) the first time I played the missions three years ago. Stracraft is a great game, quite fun.
It took me 5:00:31 to complete the Terran missions, 6:50:48 to complete the Zerg missions, and 8:36:18 to complete the Protoss missions. I skipped the sixth Protoss mission (one of the ship-board "go here, go here, go here" missions, which I hate). I lost the seventh Protoss mission twice before finally achieving victory, and the repeat plays aren't figured into the time I recorded for playing the game.
In all, it took me 20:27:37 to complete the game. That's about how long it took me to do a Diablo II game from start-to-finish when I first started (though now I can do it in probably about eight hours!).
Now I'll have to play the Starcraft expansion, Brood War.
Ah, computer games...one of my great weaknesses. :)
On this day at foldedspace.org

2004 — The Spontaneous Gourmet Yessir, I like to cook. And as my skills increase — if only in my own mind — I like to make the recipes up as I go.