yes, my shoulder still hurts. thanks for asking. (you'll know it feels better when these entries use normal capitalization and punctuation again.)
---
after the great success of the fondue party we had for kris' birthday, i've been looking for an excuse to host a similar event with the same guests. this weekend seemed perfect, so last night kris and hosted a semi-spontaneous gathering for wine, cheese, and poetry.
we were joined by mac and pam, joel and aimee, and jeremy and jennifer. jenn brought a well-received cheese concoction: fresh mozarella with basil and fresh plum tomatoes in olive oil and kosher salt (and fresh ground pepper). joel and aimee brought some brie and some peppered goat cheese. jeremy, being the most wine-savvy in the group, served as sommelier, selecting from my pool of wines.
it was great fun.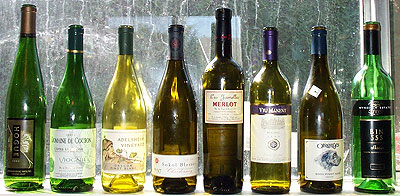 the eight of us consumed the following wines:
2001 hogue johannisberg riesling (columbia valley (prosser, wa)) -- very nice. we like the hogue chardonnay already, and this wine was good too.
2001 domaine de couron viogneir (cotes du rhone)
2001 adelsheim vineyard pinot blanc (newberg, or) -- a little too floral for me, though others liked it
1997 sokol blosser chardonnay (dundee, or) -- a fine wine, but we knew that already
2000 les jamelles merlot (france)
2000 viu manent malbec (colchagua valley, chile) -- a nice, light red
2001 o'reilley's pinot noir (newberg, or) -- a good wine, worth buying again
1999 bin 555 shiraz (south eastern australia) -- boy, i have a weakness for australian shiraz. the stuff is awesome. this is no exception.
to accomany the wine, we had fruit (apples, pears, canteloupe, grapes), nuts (pistachios, macadamias, almonds, walnuts), kalamata olives (not enough -- these were very popular), bread and crackers, and the following cheeses:
brie (france)
danish blue (denmark)
extra sharp white cheddar (ireland)
havarti (denmark)
goat cheese (canada)
cambozola (germany)
double gloucester with onions and chives (england) -- perhaps my favorite cheese of all time. (remember: i love cheese)
to complement the wine and cheese, each guest brought poems to share with the group. highlights:
(i don't think i've yet linked to the fantastic poetry resource at the university of toronto: introduction to representative poetry on-line. it's outstanding.
this is a good group for social gatherings. eight people, all social, with sufficiently varied backgrounds to keep things interesting but enough in common to allow for shared experiences and viewpoints. the conversations are lively and engaging. though this group is but a subset of our larger group of friends, it's a good subset, one that we may try to assemble a couple times per year.
On this day at foldedspace.org

2004 — Nearly Defeated by a Bed Kris and I are fairly bright, but last night we were almost defeated by a bed.

2003 — Poetical Interlude In which I share some of my favorite poems and ask YOU to do the same.