How many lazy Saturdays have I spent dozing on the couch while Kris listens to the Indigo Girls in the past fifteen years? Too many to count. By now, "Land of Canaan" has become a sort of lullaby for afternoon naps.
---
Jace posted this image the other day (sorry for stealing your bandwidth, Jace):
Which amused me because I made a very similar photograph a few weeks ago: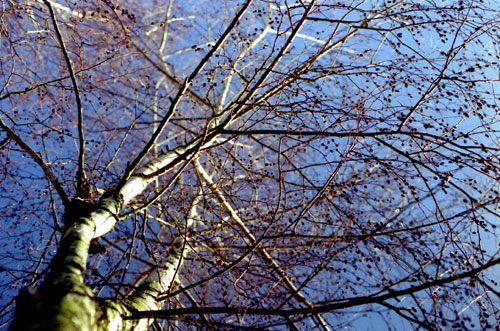 Great minds think alike!
---
Because I had a hard time figuring this out:
How to Mat a Photograph
First, make a photograph that you'd like to have enlarged and displayed. This may take a while.
When you have a photograph worthy of display, take the negative to your local photolab and ask them to enlarge the appropriate frame. At this time, you might want to ask them to punch up certain colors: to accentuate yellows, for example. Be warned changes can only be applied to the entire photograph, not just to parts of it -- if you ask for more yellow, the entire photo will have more yellow. Sometimes that's just what you want, though: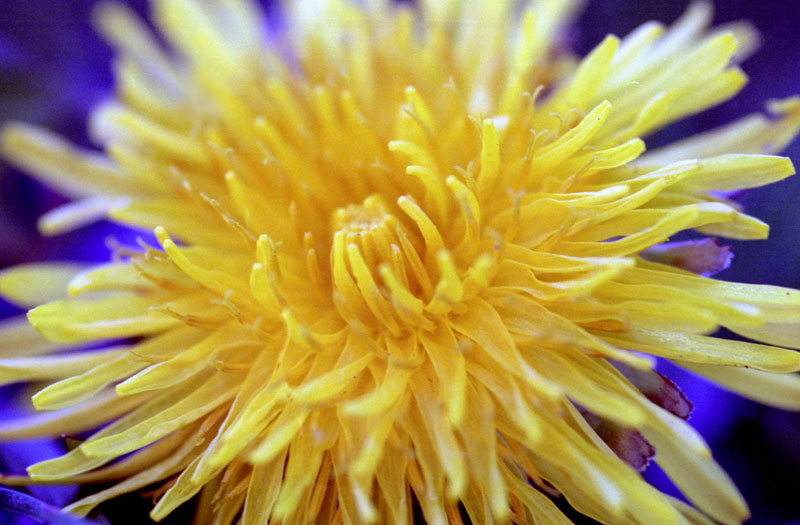 You probably want an 8x10 enlargement. An 8x10 is more pleasing to the eye than an 8x12, and it can be difficult to find pre-fab matting for an 8x12 enlargement. The enlargement will cost you about $5.
Once you have your enlargement, you need to find matting. Your local frame shop can custom-cut matting for you, but the least expensive option is to purchase pre-cut matting, which is available in a variety of colors. You might want to select a mat color that highlights a subtle color in your photograph. A neutral tone always works, too; a colorful photograph looks nice against a mat of grey or tan. A pre-cut 11x14 mat designed to fit an 8x10 photograph (or an 8x12 photograph) costs about $5.
You also need to spend a couple of bucks to buy something upon which to mount the photo and mat. Foam-core is good, and generally available and most frame shops and hobby stores.
Use single-sided transparent tape to affix the photograph to the back of the mat. Apply as little tape as possible; if you use a lot of tape, you're likely to produce "bubbling". If you can get away with using a single piece of tape, do it.
Next, place several pieces of double-sided tape on the back of the mat, around the outside edge of your photograph. Gently align the foam-core to the back of the mat, and then press firmly so that it adheres to the double-sided tape.
You should now have an attractive matted photograph, ready for display! And it only cost you $15.
(Note that it is certainly possible to spend a lot more to display your photographs, but if the method I've described isn't worthy of your photography, you already know all you need about matting, etc.)
On this day at foldedspace.org

2005 — Houseguests: Bad Photo Edition Joel and Aimee are in town, and the occasion has given rise to a statistically improbable spate of bad photography.

2004 — Ch-Ch-Changes After three years, I'm preparing to redesign foldedspace.org. Do you have any suggestions for changes in format (or content)? Speak now or forever hold your peace.

2002 — Running Bear Dad played guitar in high school. At least one yearbook has pictures of him playing and singing on stage. He played at talent shows, and possibly at other occasions. When I was young he played at family gatherings, singing those old songs that he loved.