Kris has a family of pet flower spiders in the backyard. We noticed the first several years ago, pale yellow against the rich colors of the blooms. The next year there were more of them, and the following year even more. Now there's a large family of them in her garden.
Yesterday she asked me to grab my camera and to follow her to the backyard. There, on a columbine, one of her flower spiders was struggling with a large lunch: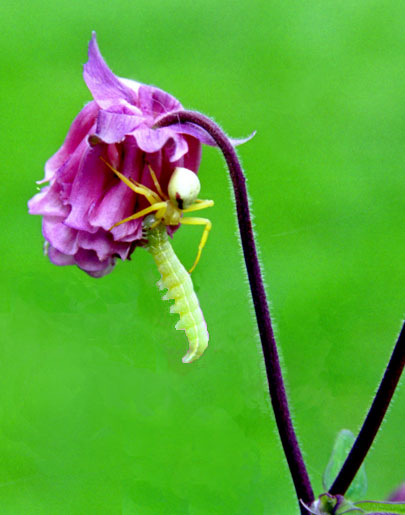 This photo has been doctored in photoshop to remove other columbine blooms. It's not a perfect alteration yet, but I'm working on it. I consider this my first real digital photograph; it was originally captured on film, yes, but the end-product will be purely digital.
On this day at foldedspace.org

2002 — In which the Law stops all my Fun It is a Good Thing when one of your best friends is a lawyer. You learn all sorts of interesting things and avoid potential fines and jail terms.