I was going to write a nice entry with childhood reminiscences about the Clackamas County Fair. That can wait until next year. This year I'm going to toot my own horn.
---
Much of what I enjoy about the county fair is the opportunity for friends and neighbors to share the fruits of their labor. Moms bring their best apple pie for competition, Dads bring their collection of bottle caps, and Kids bring their FFA llamas to compete against other FFA llamas. (Here's a copy of the exhibitors handbook.)
I've never entered anything in the fair before, but this year I elected to exhibit some of my photographs.
I submitted eight photographs to the photography competition: four each in the color section and the black-and-white section. Having never done anything like this before, I didn't know what to expect.
There are nine categories in both color and black-and-white: landscape, seascape, buildings, animals, portraits, plants, still life, panoramic, and general (miscellaneous). Within each category prizes are awarded for first, second, and third place. There are also various other prizes awarded, including three Judge's Choice Awards.
Of the prints that I submitted, these photographs did not win a prize (as usual, click a photo to open a larger version in another window):
However — and here's where I get to brag a bit — these photographs did win prizes:
The first photo, of Simon's eye, won first place in the black-and-white animal life category. I entered the photo in the still life, textures, and patterns category (I think of it as a pattern shot, not an animal shot), but it was deemed an animal photograph instead.
The second photo, a portrait of Simon, won third place in the black-and-white animal life category.
I didn't know which category best suited the third photo. The image, which shows my nephew, Alex, walking down the sidewalk at Custom Box Service, found its way to the black-and-white general interest category in which it took second place. (The version of the photo shown here has two problems: it was scanned crooked and, worse, I've photoshopped out a light fixture in the upper right. I let Nick convince me that it detracted from the photo, but it actually provides some balance to the composition.)
The final photograph, of Simon climbing the ladder, had previously won third place in our end-of-photography. (My prize, a roll of 3200-speed black-and-white film, was used to create the other two prize-winning photos of Simon.) At the fair this photograph took third place in the color animal life competition.
Best of all: the photo of Simon climbing the ladder was awarded one of the three Judge's Choice Awards! (The other two went to the "Best in Show" photographs for color and for black-and-white.)
Sue once observed in photography class: "That cat's going to make you a fortune." She's overstating the case by several orders of magnitude, but Simon has netted me $25 and a roll of film so far.
Obviously, I'm quite pleased. This just makes me want to go make more photographs.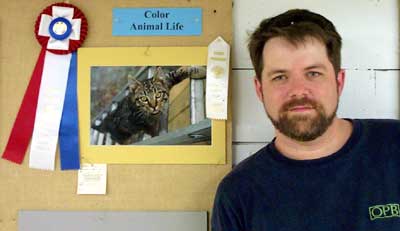 Thanks to Mackenzie, for inspiring me to pursue this hobby, and to Warren, for providing instruction and guidance over the past six months.
On this day at foldedspace.org

2005 — Books That Stick These are the books that have most stuck with us. We think of them often. We compare other books to them. They're the cream of the crop.

2001 — Infrequent Update Nice to write again. Been a long time.