Come one, come all!
Join us on Saturday the 13th of March, starting at noon, for Chicken Noodle Fest. Lunch will be served from noon to two, with entertainment to follow.
The planned menu includes:
chicken noodle soup
bean with bacon soup
grilled cheese sandwiches
tuna fish sandwiches
peanut butter and jelly sandwiches
pickles, olives, and carrot sticks
lime jell-o
chocolate sheet cake
kool-aid
anything else you'd care to share
Planned entertainment includes:
classic children's books
classic children's games
children's videos (including Tom and Jerry, the Pink Panther, and Bugs Bunny)
a yard to play in (if it's nice)
and no clowns, we promise
Children are encouraged, but not required. (Meaning: if you have kids, bring them, but don't just go out and get one if you don't already have one. We'll let you in without a kid.)
We'll be sending out e-mail and snail mail invitations to this shindig. If you don't receive one, that doesn't mean you're not invited. Everyone is invited. If you'd like to join us — and we hope you will — please leave a comment below so that we know how many Costco jumbo-sized cans of soup to purchase.
---
Whence chicken noodles fest?
Fifteen years ago, when Kris and I were first dating, we decided to hold a little party for our mutual friends. We borrowed some children's books from the public library, bought some play-doh and squirt guns, and then made a meal of our favorite foods from childhood. We played children's games, read Dr. Seuss and Charlotte's Web, and had a terrific meal of chicken noodle soup, peanut butter and jelly sandwiches, and lime jello.
I took four snapshots at that first Chicken Noodle Fest. The first three, when combined, give a 360-degree view of the apartment's living room. The circle includes (from L-to-R, starting with top photo): Holly Moline, T.J. Chandler (with whom I went to high school and college — haven't heard from him in a while), Kristin Becker, Jeff Youde (haven't heard from Kris and Jeff in a while, either), Kris Gates, Kirstie, Lisette Heilman, Tricia Scudder, Mike Maddox, Jim Osmer (with whom I recently regained contact), Melissa Woolsey (still in New Orleans?), Carol Luft, Emily, Catherine English, Ashley Boyd. the last photograph features several people seated around the kitchen table (from L-to-R): Aaron McGrath (now a lawyer for Amazon), Bill Wilkerson (my roommate at the time of this event), Laura Zinniker (who may well be the only other person to be at both Chicken Noodle Fests), and Kim Coghlan.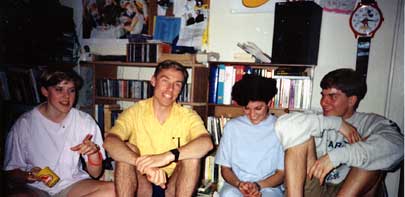 Holly, T.J., Kris (Becker), and Jeff
A good time was had by all...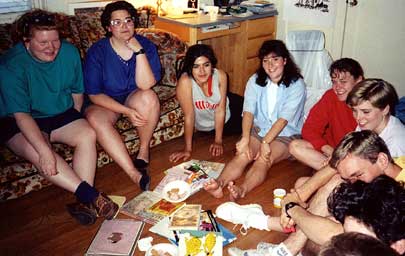 ...except for maybe Carol, who looks quite bored here.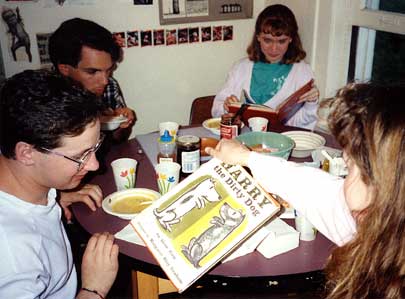 Chicken noodle soup with peanut butter and jelly sandwiches. Yum!
A little photoshop sleuthing of the four photographs reveals that we held this on an evening late in April. It was a fun time, a social gathering at the end of the year, just before finals. We think it'll be a fun time again, fifteen years later.
On this day at foldedspace.org

2005 — Ideal Schedule As part of my quest for a pastoral lifestyle, I may be in danger of pining for an ideal schedule which is anything but.

2003 — Light Our assignment last week was to photograph light. Specifically, to look at the impact of light on our subject.

2002 — Indigo Girls We joined Cari and Chris for dinner (the first time we've gone out with them in years -- nice to do something with them again) and then we caught the Indigo Girls' CD Preview at the Aladdin Theater in southeast Portland.