Andrew, Joel, and I met at Dave's house for a little bit of fun last Sunday. We gathered to play Dungeons and Dragons, that rite of passage for geeks everywhere.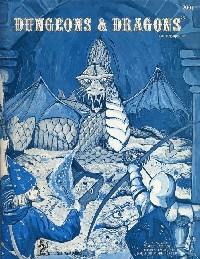 I was introduced to D&D in 1978, when I was nine years old. I took to it immediately because the way we played it, it was a loose and flexible game of imagination. The rules were only guidelines. Using these guidelines, we co-operated to create fantastic stories of trolls in caves, mysterious giants, and dragons on mountaintops, with great heroes capable of vanquishing them all.
D&D was one of my primary hobbies from fifth to eighth grade. I played with Chris Watson and Darren Misner and Dave Carlson and Torey Lam (though never with all of them at the same time). Girls had dolls; we had Dungeons and Dragons. (They serve similar functions in child development.)
Even during high school — when I threw out my secular music because of its Demonic Influence — I could never turn my back on Dungeons and Dragons. At the time, there was great furor over how evil the game was, how it promoted Satanism and witchcraft, led to teen suicide. I had to marvel that anyone could make such arguments. (Though for some reason I bought into the "Thompson Twins are evil" bit. Shudder.) They'd obviously never played the game. Some people will rail about anything.
In time, I outgrew D&D. My interests lay elsewhere. I continued to play similar games on the computer, however: Zork and Enchanter (not strictly role-playing games), Pool of Radiance, Wizardry, Might and Magic (I, II, and III), Final Fantasy II, and, eventually, a couple of MUDs (Northern Lights being my favorite — I wasted weeks on that game from 1994-1996). Though my interest in computer games has waned in recent years — and despite the fact I've never played a massively-multiplayer on-line role-playing game — I'm anxiously awaiting the arrival of World of Warcraft. It looks fantastic.
In college, Andrew and Dana and I began to play GURPS (the Generic Universal Role-Playing System), a sort of vanilla Dungeons and Dragons with much greater flexibility and — in my experience — much less fun. Because the system is generic, the rules take center stage instead of the gameplay. The three of us have had a series of GURPS sessions over the course of a decade (and Andrew ran a local campaign in from 1997-1998), but they've never held the appeal to me of old-school Dungeons and Dragons.
So, when Dave recently volunteered to lead us on a D&D campaign, I was anxious to join.
---
Here is the story of our adventure, complete with geeky D&D jokes:
Our adventure begins in the hamlet of Hammett, miles from nowhere. Hammett is the pastoral home of some two thousand souls. Somehow, we — Oxalis the druid/weaver (J.D.), Thiamine the first-level battle mage (Andrew), and Funt McCracken the fighter/shipwright (Joel) — have managed to find ourselves at the same table. We're all out of work. Funt was laid off at the shipyards in Talendi (a major port city 25 miles to the north) — "corruption in the shipyards" — and I'm not able to get any work as a weaver because I'm not particularly skilled. We're drowning our sorrows in stout ale. Ah, many glorious adventures have begun in just such a fashion.
As we exchange bawdy tales, Thiamine notices we're being scrutinized by a man sitting alone in the corner. The man approaches us, introduces himself as Int. Int claims to be in the service of one Draca Feathersmith, and he invites us to dinner at Feathersmith's estate on the morrow. "My employer may be able to provide you with jobs," he says.
Thiamine and Funt do not trust this Int. When he's gone, they discuss how this seems like a trap. "I'll pump the barmaid for information," says Funt. "If there's one thing I enjoy doing, it's pumping barmaids for information."
The barmaid tells us that Feathersmith is an importer/exporter (though not for Vandelay Industries) from Talendi, and that he spends his summers in Hammett. He's well-known throughout the village.
Amidst protests from my companions, I purchase a bottle of Tunabdalin for Feathersmith. It costs me ten gold pieces. (To put this into perspective: my entire fortune comprises 144 gold pieces. My companions have probably thirty gold pieces combined.) Funt buys a dagger in order "to be prepared". (In real life, Joel was an Eagle Scout.) My character, who, as a druid, normally sleeps in the woods, bathes and washes his hair and puts on his best self-woven clothing.
Int comes to pick us up in a carriage. Thiamine and Funt are still wary. When they meet Feathersmith, they do not trust him. Oxalis proffers the bottle of Tunabdalin in an effort to win Feathersmith's favor. Over a fine meal, Feathersmith explains his business proposition. He will give us each 150 gold pieces if we safely deliver a chest containing a ceremonial ring and dagger to Talendi.
"Why don't you deliver it yourself?" asks the wary Thiamine.
"Other people are looking for these objects," says Feathersmith. "I'm too well known, and they would attack me. What I want is your anonymity."
"We have lots of that," says Thiamine.
Feathersmith leaves the room so that our party can discuss his proposition. My companions are wary. They're always wary. (In fact, they seem downright paranoid.) Thiamine is willing to take the job if we receive all of the money in advance. He thinks that we can't afford to make the trip otherwise.
"I can loan you the money," says Oxalis. "I have plenty. But I'll have to charge you interest."
"Druids don't charge interest," says Funt. "Jews charge interest."
"I'm a Jewish druid," says Oxalis.
When Feathersmith returns, Thiamine outlines his proposal: we'll deliver the items if we're paid in advance. "What do you think?" he asks.
"I think you're all chaotic neutral is what I think," says Dave as Dungeon Master, not as Feathersmith.
"No," says Joel. "We're all chaotic stupid."
"Is Feathersmith lying?" asks Joel.
"Would you like to make a perception check?" Dave asks.
Joel rolls a die: a one, a critical failure.
"Feathersmith seems perfectly trustworthy," says Dave.
While Thiamine and Funt debate whether to take the job, Oxalis (a druid, remember) admires the wood in the table, and the chairs, and the walls, and the sideboard. "What kind of wood is this?" he asks. Nobody knows. We take the job.
We set out the next morning.
"I need to buy some food," says Funt. "I forgot to buy any."
"I have food," says Thiamine.
"How much?" asks Funt.
"Three days rations," says Thiamine. "How far is the walk?"
"About four days," says Dave.
"I can pick leaves and berries," says Oxalis. "Look over there: an especially tasty tuber."
Funt ignores me. "Can you share your rations?" he asks Thiamine. They agree that they'll share half rations.
In order not to be seen, we opt against taking the road, instead cutting through the Northern Forest, an area with which Oxalis is moderately familiar. Feathersmith has provided us with a map, which is convenient. That means we can debate whether to head east, past the mage's tower, or north, past the unexplored ruins. We opt to pass by the unexplored ruins.
As we walk, we hear howling. "You hear wolves while you're out in the woods," says Dave the DM.
"Is that unusual?" I ask.
"Not really," he says. "But it could just be coyotes. You're not sure. You're only a first level druid."
After a few hours of walking, we come upon a strange beast. It looks something like an armadillo, but with a gem set in its forehead. "I offer it some of my rations," says Andrew.
"Some of my rations, you mean," Funt mutters.
The beast takes to Thiamine, begins to follow him around. Thiamine calls him Navy (armadillo-->army-->navy — such is the thought-process of a first-level battle mage). What's more, he begins to pick up premonitions from the beast. Treasure?!? it seems to think, and Thiamine hears its voice in his head. Danger?!? it thinks and suddenly we're face-to-face with a goblin and four kobolds.
We engage them. Oxalis is severely wounded while trying to cast a spell that would have made the nearby weeds entangle the goblin. As he's casting, the kobolds set upon him. Fortunately, Thiamine and Funt prevail.
The next day, we encounter with a pack of dogs. Again Oxalis is wounded while attempting to cast a spell (this time trying to communicate with the dogs.) Thiamine and Funt kill all but one of the beasts.
That evening, Oxalis stumbles upon another pack of dogs. They surround the group.
"It's lovely having a druid around," says Funt. "You're so useful."
"As bait," says Thiamine.
As if to prove them wrong, Oxalis charges into battle with his oaken cudgel. He smashes the head of the first dog. Thiamine the first-level battle mage and Funt the shipwright handle the remaining beasts with ease.
According to the map, the next day we'll pass close by the ancient ruins. "We should go check it out, just to be safe," says Thiamine. Funt is ambivalent. Oxalis thinks the group should push on to complete its mission within the allotted time. "Navy senses treasure," says Thiamine, and the clinches it. The next morning, we explore the ruins.
We find a decrepit temple. There's an altar that might be hiding a trapdoor. "We don't have time," says Oxalis.
"It won't hurt to look," says Thiamine as he pulls a lever. The altar moves aside to reveal stairs into darkness. "Navy senses treasure nearby," says Thiamine.
We descend the stairs into darkness. Thiamine, an elf, and Oxalis, a half-elf, are able to see in the dark. Funt, however, is merely human, and so we must light a torch for him. We explore the hidden passages until we find a room containing several desiccated corpses surrounding a chest. "Navy senses treasure here," says Thiamine, and he moves toward the chest.
As he does, the "corpses" spring to life. They're skeletons! They set upon us, striking down Thiamine and throwing themselves upon Funt. Funt repels them, but only just. There are some tense moments when we think Thiamine may be dead, but he manages to pull through. We revive him and then open the (trapped) chest. We divvy up the loot.
Returning to the temple, we're confronted by a druidic fellow with a long beard. He introduces himself as Sam. He tells us that our companion animal, Navy, is a carbuncle. Sam is wary of our presence, and seems insistent that we leave. We do.
Time is running out. We need to be in Talendi to deliver our parcel on the morrow. Still, our tribulations are not over. As we near the forest's edge, a giant serpent falls from the treetops and attacks Funt. It's all we can do to fight the damn thing off and then break for the open plains to the north. We pitch camp and pass an uneventful night.
The next day, we arrive at the port city of Talendi. After a few delays, we make our delivery to Lady Brandowyn Lister. She is grateful. She pays us our money and then offers to give us further work. Will we accept her employ, or will we return to explore the forest temple? Tune in next month for the next exciting chapter!
---
One joke didn't fit in the telling of the tale. During the character creation process, I was purchasing my equipment. I noticed that you one could buy farm animals, and the following exchange occurred:
J.D.: Oooh. Livestock! Can we buy sheep?
Andrew: Hm. If you put banded armor on sheep and drove them in front of you…
Dave: It's a war-lamb!
Heh.
---
And that's what happens when grown get together to play Dungeons and Dragons. Lots of Satanism and witchcraft, huh?
On this day at foldedspace.org

2005 — Lego Racers Harrison is developing into a typical male, which, in a way, is fun to see. For example, he loves video games.

2003 — Boy in a Well Over the past couple days I've heard bits and pieces about the angry farmer who drove his tractor into a pond in Washington, D.C.

2002 — Frustrated On Sunday I drove to six different stores around Portland searching for her album. None of them had it. What a colossal waste of time. I would have gladly paid $10 to be able to download the thing from an online source.

2001 — Disjointed Morning I'm not the best judge of weather at 5:40 a.m. I had intended to bike to work today but when...