It seems some of you actually like all of the stories about the house. I've purposely avoided posting more about the house lately, because I didn't want to bore you. Turns out some of you prefer that to tales about my childhood!
So, obviously — or perhaps not — we now have an internet connection in our house. It wasnt easy, though.
Local phone service in Portland is only available through Qwest (formerly U.S. West). Qwest has had a horrible reputation for years. I've never heard anyone say anything good about them, especially with regards to DSL.
My experience, however, has been nothing but pleasant. The woman who helped me set up phone service was quick and efficient. The woman who helped me set up DSL was equally professional, and she gave me her e-mail address. When I e-mailed her to verify that the DSL hookup was on schedule, she replied with an apology that the order had been lost from the system, but that she was expediting it for me. I got the DSL modem the next morning.
Unfortunately, the modem didn't work. So, Qwest sent a technician out — on a Saturday — to diagnose the problem. He offered copious free advice on wiring the house's phone system (which, as with many of the other systems in this place, is non-standard and cobbled together by a DIYer). He confirmed that the DSL signal was coming through ("It's strong for being so far from the central office," he said), but for some reason, we couldn't get the modem to work. In fact, we tried three identical modems, and none of them worked. In the end, he went outside the system: he left me with an older model that did work. He didn't fill out any paperwork. He's trusting me to put it on my porch later this week, after the replacement current model arrives. He spent over an hour working with me.
So far, Qwest has been good to me.
In other phone-related news, I finally succumbed to the dark side and purchased a cell phone. I bought a Sony Ericsson T610 phone with T-Mobile's Basic Plus service and the t-zones add-on package (which gives me access to POP3 e-mail and WAP browsing for $5/month). One-year contract.
Because of the e-mail function on the phone, I've been able to read all of your e-mail messages, even if I haven't been able to reply to them. (I haven't taken the time to learn how to do this via the phone, and I only just now got an internet connection back.)
The phone is pretty damn cool, I must say. I love the caller ID thing. I love the fact that I was able to sync it with my computer's address book in less than five minutes. I love the fact that I can check e-mail, or sports scores, or movie times. Basically, I'm now hard-wired to "The Net". It's the Matrix, baby! And it has a cheap-o built-in camer, too. For example, earlier today I used my phone to both take this photo and then e-mail it to myself: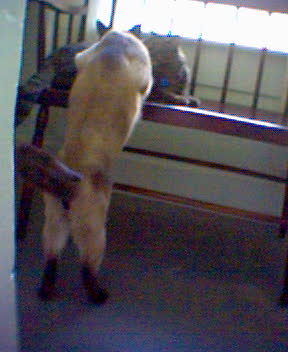 Oh, yeah, I should probably mention the house.
The floors are finished, and look beautiful. There's one section of water damage that we didn't have repaired (because of a language issue — we didn't understand what the contractor was telling us). We're on them as little as possible for a few days, though I am writing this entry from our spare table, which is set up on the newly refinished dining room floor.
Our popcorn ceiling does not have asbestos. We're trying to decide what our next course of action is: Do we remove the popcorn stuff to the ceiling? From the ceiling, too? Not at all? Do we pay somebody to do it for us?
We have an insulation contractor coming on Monday to give us a bid on having blow-in insulation installed from the inside. We have an energy audit schedule for the following Monday. The drywall contractor we're working with has tentatively agreed to begin work the Monday after that.
Meanwhile, we've moved nearly everything out of the Canby house. We moved the washer and dryer over today, and most of the house plants. The cats came back over yesterday. (Simon loves it. He's the only one brave enough to venture downstairs. He'd be roaming outside if we'd let him.)
Many chores still remain undone at both houses. I've only managed to mow two-thirds of the lawn here, and never at any one time. I need to find time to do that. (Like now, when I'm writing a weblog entry.) I also need to find time to re-install the electrical outlets, to set up the shop (and move the table saw inside), to purchase and install wooden heater vents and outlet covers, and so much more.
We're still tired, but recovering. Tomorrow we're taking the day off from house stuff to spend time with friends.
And did I mention Kris turns 34 today? Happy birthday, sweetheart!
On this day at foldedspace.org

2003 — And Many More In which my sweetie turns thirty-three.