Joel and Aimee are in town, and the occasion has given rise to a statistically improbable spate of bad photography.
Warning: the following photographs are entirely unflattering to all parties involved, especially the photographer(s).
Joel and Aimee left Portland at the end of last summer, intent on pursuing medical degrees in South Dakota of all places. (The many levels of masochism inherent in this choice are left as an exercise for the reader to explore.) Having spent several months deep in their books — and starring in two collegiate theater productions — they decided to return to Oregon for Spring Break. Surprisingly, the weather cooperated with them.
Joel snapped the first bad photo of the weekend during the trip home from the airport: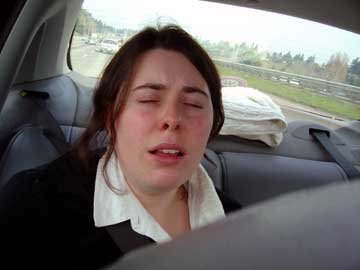 The photographic quality did not improve from there.
---
On Saturday evening, we held a three-way dinner party. Three-way in that it honored our visiting friends, celebrated Jeremy's 33rd birthday, and marked Martha Stewart's release from her unjust imprisonment. Joel and Aimee created the guest list, and the rest of us provided the food. (It was an informal, potluck dinner party, which worked surprisingly well.)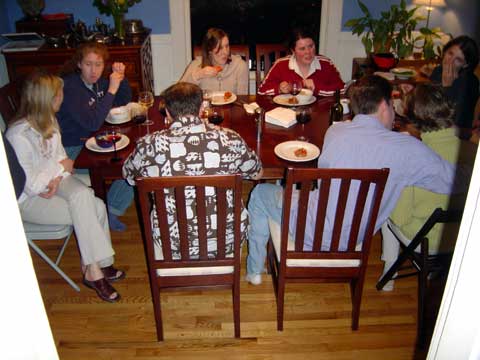 We ate, we drank, we laughed. We shared stories. We made jokes. We talked about breastfeeding and medical school and, thankfully, we even talked about World of Warcraft. Joel and Jeremy talked loudly, as is their custom.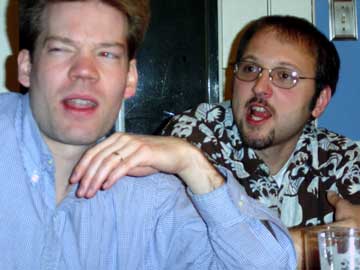 Jeff, who watched as I edited the photos for this entry, found the above image hilarious. Especially Jeremy's aspect. "You ought to crop it and just post the part with Jeremy," he said, imitating Jeremy's facial expression. Who says I do not cater to my readers' whims?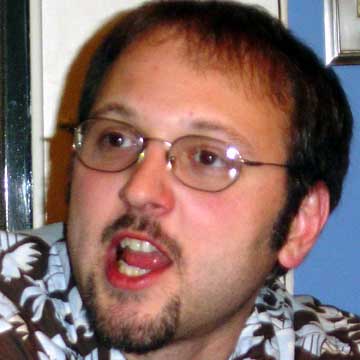 As luck would have it, we had three fantastic desserts: Pam's extraordinarily gingery Ginger Cake, Jenn's extraordinarily chocolate Chocolate Créme Brulée, and somebody's (whose?) lemon pound cake. I adore Jenn's extraordinarily chocolate Chocolate Créme Brulée, so much so that I took this wholly unappetizing photograph of the stuff: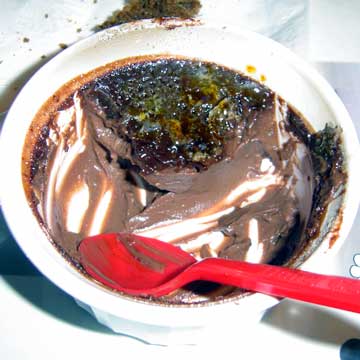 Trust me when I tell you that this chocolatey treat is second only to Chocolate Chaud in degree of cocoa divinity. (By the by, did you know that chaud is an adjective and not a noun? No, neither did I. So, when I casually mention — as I am wont to do — that I've discovered I like chaud, I'm actually saying that I like "hot", which is simply asinine. sigh)
When we were organizing the event, I asked everyone to bring a reading. Over the past two months, though, this had slipped my mind. Craig remembered, though. He brought a copy of the Hippocratic Oath (the classical version), which Joel read with all his theatrical might: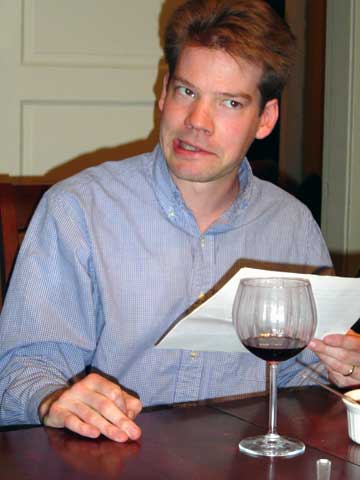 After dinner, the women sat around the table talking about those perennial chestnuts, knitting and childbirth, while the men retreated to the smoking porch to, well, smoke. Pipes were puffed, cigars were sipped, and the last of the clove cigarettes I bought in college seventeen years ago were consumed.
Doesn't Craig look like Andy Capp here? (Only without the cap.)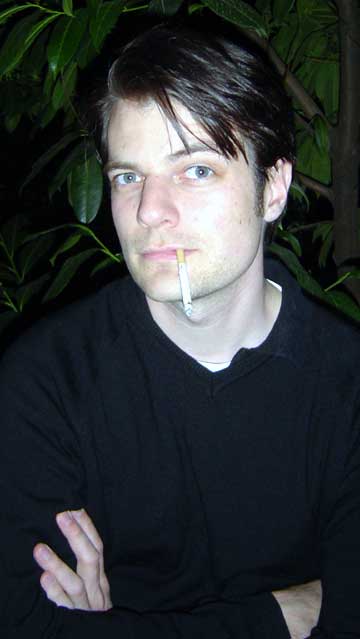 Earlier in the day, Aimee and Joel and Mac had helped me put together Kris' Christmas present, a metal firepit for the front lawn. When the cold air (from the open door) and the smoke threatened to bring the Wrath of the Women down upon us, we made for the front lawn to give this firepit its maiden pyre. Joel grabbed the Scotch. We stood around looking very very cool.
The highlight of the evening was a bizarre Lord of the Flies moment in which the men spontaneously danced around the firepit, waving sparklers (which Jenn supplied in celebration of Jeremy's birthday), and chanting laudatory anthems in praise of the penis. I kid you not. I'll borrow a photo from Jenn's weblog to illustrate: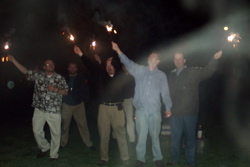 "You know what would be really funny?" I said at one point during the evening. "It would be really funny if all of us posted the exact same weblog entry." Every couple present had a weblog.
"Ha ha," said everyone else. "Yes, that would be funny." And then we drank more wine and the concept faded from our feeble minds. As a result, we have disparate entries about the same event. Courtney captures the maternal side of the evening, and Jenn captures the fellowship. I'll link to the others when (if?) they post entries about the night.
The good news is the group didn't consume as much wine as I'd feared. The bad news is this is because we consumed prodigious quantities of Scotch whiskey.
A fun evening. Very fun, indeed. And one which produced many bad photos.
---
Kris and I have actually been in full social mode since last Thursday. First we hosted Marcela and Pierre and their beautiful children. On Friday, we welcomed Kris' teacher friends. Saturday, we hosted the above-mentioned gathering. On Sunday, we headed south to help Jeremy and Jennifer landscape their yard (though my only contribution was entertaining the kids for several hours). Yesterday, Joel and Aimee invited Andrew and Courtney to join us for dinner, a delicious meal of lamb kebobs whipped up by Mr. Miron.
This busy social calendar has left me drained. I love time spent with friends, but need time alone to recharge my batteries.
Andrew sympathized with my dilemma: "The I in Mr. INTP is crying out for I-time and just not getting it."
True. True.
But I love it anyhow.
On this day at foldedspace.org

2004 — Ch-Ch-Changes After three years, I'm preparing to redesign foldedspace.org. Do you have any suggestions for changes in format (or content)? Speak now or forever hold your peace.

2003 — How to Mat a Photograph First, make a photograph that you'd like to have enlarged and displayed. This may take a while.

2002 — Running Bear Dad played guitar in high school. At least one yearbook has pictures of him playing and singing on stage. He played at talent shows, and possibly at other occasions. When I was young he played at family gatherings, singing those old songs that he loved.