Nic, our electrician, made time for us on Saturday, and as a result we're feeling better about the state of the bathroom. The bathroom itself is still an empty shell, but when Nic has finished, everything should come together quickly.
While we watched Nic install a new electrical box on the front of the house yesterday, Kris noted that the awnings ought to come down. "I know you like them," she said, "but we keep them up to get more light in the house, so they're really not serving a purpose."
This morning, I took down the awnings. They were filthy. I hosed them off and then, in the late morning sun, I crawled around on them, scrubbing away the dirt and the grime and the mold. It felt great. It's been a long time since I frolicked in the water.
When I'd finished, I drove to Fred Meyer to buy a wading pool. When I was a kid, wading pools were flimsy plastic affairs that had to be filled with Dad-level lung power. Now, though, you have two options: expensive pools built along the same lines, but much larger; or smaller pools (the size of those I remember) made from a hard molded plastic. I opted for the latter.
I might have chosen a small $5.59 pool that would fit in my car, but I decided I'd regret it. Instead, I paid $9.59 for a giant orange pool that I had to carry home, one mile along Oak Grove Boulevard. I carried the pool over my head, draped across my back; I'm sure I looked like a strange disc-man to the cars approaching from behind.
This afternoon, I spent some time soaking in the pool. (One of my goals is to get a tan this summer.) I looked like a great white whale.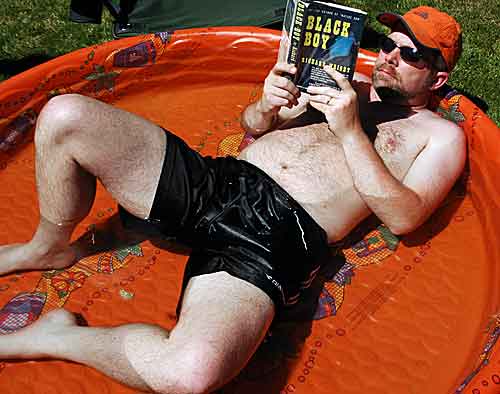 A $6 hat from the REI used gear sale. Next month's book group book. My soccer shorts. No tan.
I'm skinnier than I was two months ago, and hope to be skinnier yet by the end of the summer. And tan. Did I mention tan?
Speaking of whales: our neighbors had a garage sale yesterday. I went down to see what they had. "How come you never have anything I want," I asked Rhonda and Les. Rhonda laughed.
"Because it's always the same stuff," she said. I was about to leave when I spotted a treasure.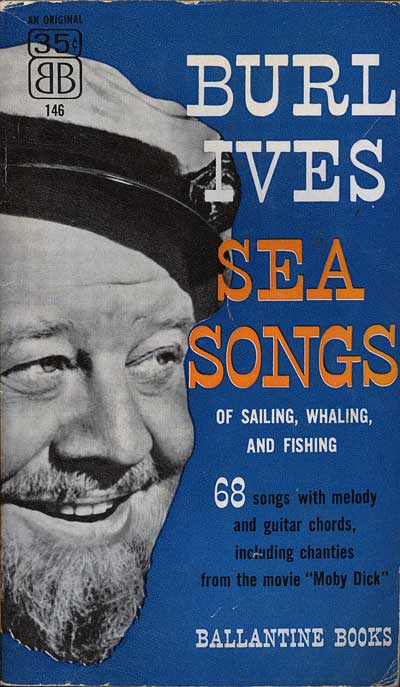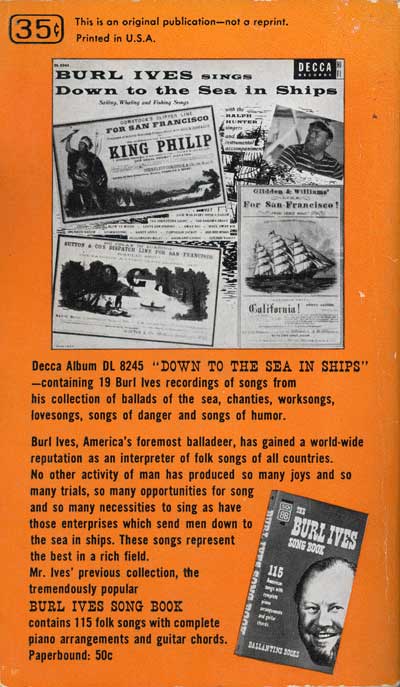 Click an image to open a larger version in a new window
The book was marked at 25 cents, but I didn't think that was a fair price. "I'll give you 50 cents," I told Rhonda. She laughed as she took my money. It was worth every penny — it's a future weblog entry!
Postscript: OMFG! This book is worth $75 in good condition! $75!?!?!?!?!? I'm dying here. Even "acceptable" copies fetch $40 from Amazon's used book affiliates.
On this day at foldedspace.org

2003 — Licensed to Drive In which I pontificate that drivers, young and old, ought to face mandatory on-the-road driving tests.