I don't know if it's because I gave up World of Warcraft, or because I've been taking my St. John's wort, or because the bathroom project is making good progress, or because I'll soon have my sleep problems solved, or because my diet is going well, or a combination of all these myriad factors. Whatever the case:
I feel like myself again.
For the first time in months (or years), I feel whole. Complete. Correct. I am myself.
---
Mac and Pam (and Megan) came over last night to kill some time while their Realtor showed their house. I showed them the progress on the bathroom, including the non-existent wall (which I should have photographed; I think they frame it in today), the new electrical panel, and the formerly pea-green tub.
We joined Kris outside in the early evening sunsine — the air perfect: golden and warm — where the women exchanged bits of gardening lore while the men tried to photograph a hummingbird.
In theory, a hummingbird ought to make a great subject, especially in the angled evening light, but a number of factors conspired against me. Namely:
I'd been messing around with my camera's presets and forgot to revert to defaults. As a result, the images I took were all processed in-camera to be sharper, more color-saturated, and less "noisy".
By reflex, I dialed down the exposure compensation by almost a full stop. Digital cameras have a tendency to blow out highlights, especially in the sun, and I didn't want that.
From the only practical angle to photograph, the hummingbird was in front of the bright white garage. Oops.
The camera didn't want to auto-focus on the hummingbird. I wasn't about to try to manually focus on the thing.
I didn't have my tripod and I was using a long focal length. Not a good combination if you want your shots to be in focus.
I snapped a few dozen photos, but every single one of them was of poor quality. The image below has been heavily cropped and processed in Photoshop. Even with all this post-processing, it's lousy.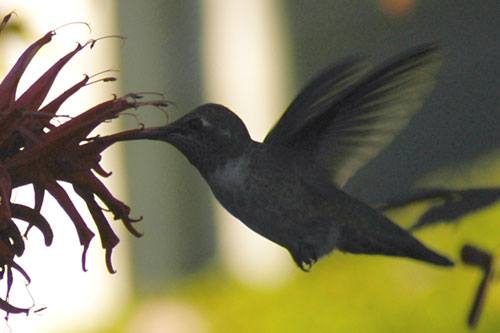 After we'd finished with flowers and birds, we sat on the lawn, lounging in the sun. A neighbor rode by on his pocket bike; he beeped his horn at us. The four of us discussed personality types, what they mean, and how they interact.
I felt I might sink into the lawn and melt away.
On this day at foldedspace.org

2004 — Spiderhaven We're looking for a name for our house. Maybe Spiderhaven. Or The Spider's Web. Or Spider Land. Rosemont? The Orchards? The Farmhouse?

2003 — Grammar Geek Cannot Sleep In which a bout of insomnia leads to the library, which leads to a grammar book, which leads to research into diagramming sentences. In which I am a geek.