It makes me laugh that I spent an hour this morning re-arranging my office.
As a reminder, our business has its offices in a 35-year-old trailer house, the trailer house in which I grew up. As you can imagine, the building is in pretty sad shape. It wasn't pretty when I was a kid, and it's even uglier now. (Yet we don't replace it because (a) though it's ugly, it works; (b) we rarely have customers visit; (c) we'd rather spend the money on ourselves and our employees; and (d) we're CHEAP.)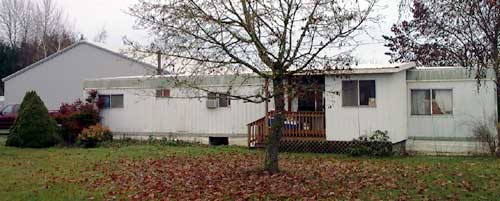 My office used to be my parents' bedroom, a room now filled with filing cabinets and desks and computers. As I say, it works as an office, but it's not pretty, and it's not comfortable. In fact, sometimes it's downright oppressive.
Earlier this year, I spent a morning cleaning the place, purging a decade's worth of crap. This was a good start, and it helped ease my mind somewhat, but it only felt like a beginning. Today when I got to work, I felt compelled to take a second step: I re-arranged the desks, freeing up enough room for me to drag an easy chair from the front of the trailer back to my office.
An easy chair? Yes, an battered old green thing that Nick once bought at a thrift store (probably for five bucks because he's CHEAP). It's been sitting unused in the front room for seven or eight years, and I decided it would be a nice thing to have in my office — a place to sit and relax when the phones are quiet and there's nothing to do.
Now I need to plan for the third and final phase of making the office comfortable. I'd like to get an area rug, some candles, a set of nice (but CHEAP) computer speakers, and some better lighting.
And maybe a potted plant.
On this day at foldedspace.org

2004 — Portrait of a File-Sharer Thanks to file-sharing technology, ABC has me as a viewer.

2003 — An Old Freak In which I'm not answering e-mail. In which I don't know modern music. In which my pencam arrives. In which I love book jacket covers. In which I watch Trading Spaces. In which I am old. And a freak.

2002 — Games People Play Stupendous weekend: much fun had with many friends. Thank you, all. I'm not glum any more.