We didn't know when we moved to Oak Grove that we were moving to a fireworks-crazed neighborhood. When we lived in Salem, we'd hear occasional fireworks around Independence Day. When we lived in Canby — both the north side of town and the south side of town — our neighbors set off fireworks on the fourth, but in retrospect, they were just playing around.
Now the folks in Oak Grove: they set off fireworks. Lots of them.
For days leading up to Independence Day, there are scattered explosions. On the third, there's a sort of preview of what it is to come. This preview is loud enough that it kept us from falling asleep Sunday night.
But it was nothing compared to tonight.
From nine to midnight, we've been treated to a constant barrage of pyrotechnics. Sitting in bed, trying to fall asleep, it sounds something like this (62 sec. mp3 — listen for the jingle of a frightened Toto's collar about twenty seconds in). Only louder. (My iBook's speakers do a poor job of recording.) Imagine three hours of that while you're trying to fall asleep.
It's like a war zone.
Kris worked a normal day today. I slept in. Or tried to. "Good luck," she said as she left. "I'll bet the cats or the birds or the squirrels will wake you up soon."
Sure enough, it wasn't ten minutes until there was some sort of crow war (20 sec. mp3) occurring in the walnut outside the bedroom window. That sound clip only captures the end of the fight, when a clear victor had emerged.
So, between the crows and the fireworks, I didn't get much sleep today.
---
We spent Saturday evening with the Gingeriches and the Proffit-Smiths, enjoying Jeremy and Jennifer's newly-completed patio.
We didn't have sparklers, but kids had fun anyhow. I took photos of them brandishing their brands. (Heh.)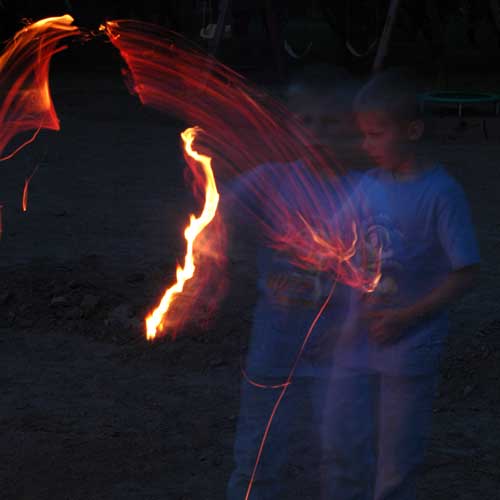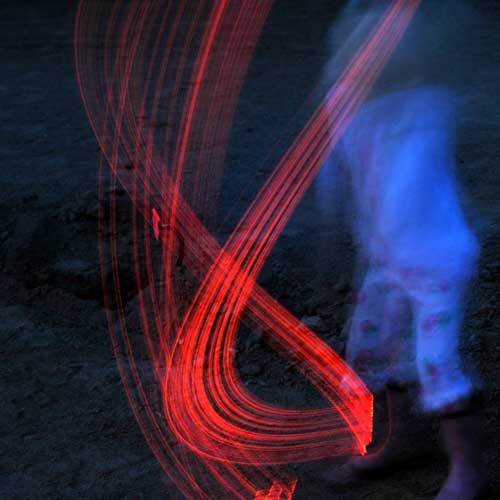 Not as professional as adults drawing with sparklers, but fun nonetheless.
---
One of the fundamental rules of photography is "Only Show Your Best Work". It's a difficult rule to follow. I break it unintentionally all the time. Sometimes, though, it's fun to show the crappy stuff.
I took the following photo of Emma the other night, and I think it makes her look remarkably like a child zombie, fresh guts smeared across her face. (The guts are actually s'mores.) The very next photo I took was this one of Hank, looking remarkably like a boy afraid of his zombie sister.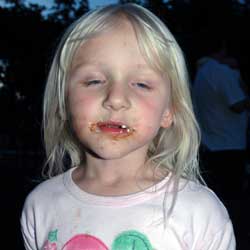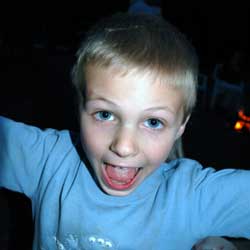 Next: the bathroom remodel begins!
On 05 July 2005 (12:30 PM), Tiffany said:
On 05 July 2005 (02:25 PM), Amy Jo said:
On 05 July 2005 (09:51 PM), J.D. said:
On 05 July 2005 (09:54 PM), J.D. said:
On 05 July 2005 (10:15 PM), Cat said:
On this day at foldedspace.org

2007 — A Reasonable Explanation for My Absence In which I am still here, but buries beneath a pile of everything.

2006 — Italy 2, Germany 0 In which I watch a fantastic World Cup match.

2003 — Independence Day In which I remember the end of my father's life.