For years now — maybe a decade — Kris and I have had the same yearly page-a-day calendar in our bathroom. It's a cat calendar ("the cat calendar", as we call it), and every day has a picture of a cat, the cat's name (and the name of its owner), and some blurb about catness. We love it.
The first three cats of the year are prize-winners. I used to take the page from January 1st and tape it over the cats' dinner bowls. "Look at this cat," I would tell them. "This is what you should aspire to. He's a Good Cat." They never listened, but they had to stare at the winning cat for 365 days. Sometimes 366. One of my money-making blog ideas is actually based around this cat-a-day concept.
Anyhow, this is all prelude to the following picture: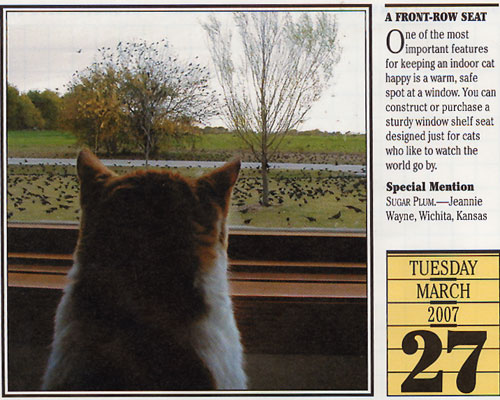 Why this photo did not win first prize for the year I will never know. Look at it. This one snapshot encompasses a metric ton of catness. Poor, poor Sugar Plum. What mean humans she has, to subject her to such torture. And to photograph it! The indignity of it all...
On this day at foldedspace.org

2006 — Space Man In which I used to dream of living in space (and still do).