See this image?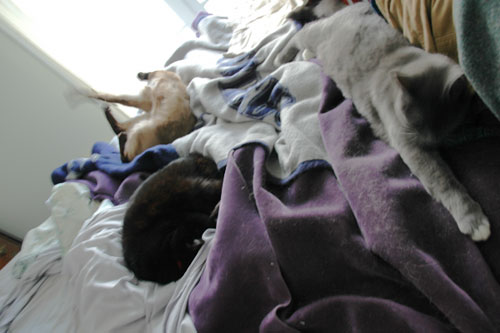 Do you know what is absolutely remarkable about what you see here? I know some of you have already figured it out. No, it's not the gross amount of fur you see clinging to the blanket in the foreground. No, it's not the clothes draped all over the footboard.
What's remarkable about this image is that Toto — the black cat — is curled up asleep next to Nemo (the Siamese, who is rolling to demonstrate how cute he is) and Max/Meatball (who is stretched long, trying to stay as far away from Toto as possible).
Nobody is growling in this scene. Nobody is hissing. In fact, these three had been asleep together for a couple hours before I thought to grab my camera.
I wish I could report that the truce held, but Toto returned to her surly self moments after I took this photo. "Why the hell am I sleeping on the bed with my brothers?" she asked as she hissed away...
On this day at foldedspace.org

2006 — Texas Ranch House In which I post a long rant about the latest PBS series, Texas Ranch House.