After two weeks in Ohio, Kim and I were pleased to move on to new territory. We leaped across the northwest corner of Pennsylvania and set up camp near Niagara Falls, New York.
Kim had never visited New York before this trip. And although I'd been to New York City a couple of times, I hadn't seen the rest of the state. As a result, we didn't know what to expect. Turns out, New York is pretty darn awesome.
The northwest corner of New York is filled with rolling hills and farmland. It's mostly rural with a few medium-sized cities — Buffalo, Rochester, Syracuse — thrown in for good measure. The area is also an up-and-coming wine-growing region, particularly the land around the long and narrow Finger Lakes. Because of this, we decided now would be a good time to test out Harvest Hosts.
Harvest Hosts is a membership site that connects campers with farm owners. We, as travelers, decide where we want to stay. We check the Harvest Hosts website to see if there are any participating farms, wineries, or breweries nearby. If there are, we call to ask permission to camp on the property. When we stay, there are three primary conditions:
We have to be self-contained. That is, our RV can't require connections to water, sewer, or electricity.
We have to support the place we stay by agreeing to purchase some of their wares. If we stay at a farm, we might buy veggies or eggs, for instance. If we stay at a winery, we buy wine.
We can't be a nuisance. We can't put out awnings or build fires unless invited to do so. This isn't a problem for most long-term trailerites. (From our experience, it's the weekend campers who are noisy and messy.)
Kim and I joined Harvest Hosts while we were in Arizona last April. We love the idea of it. Because we buy (and drink) a lot of wine, this is essentially a way for us to find free camping. We hadn't had a chance to use the service, however, until reaching New York.
Freedom Run Vineyard
As we left Ohio, Kim contacted a couple of wineries through the Harvest Hosts website. The first to get back to her was Freedom Run Winery, located about half an hour from Buffalo, New York. We had a great experience.
First, the staff was almost as laid back as we were. Larry, the owner, invited us to stay not just one night, but two or three if we wanted. After he decided we ought to have a fire for ambience, Larry brought us paper and wood and a torch to build one.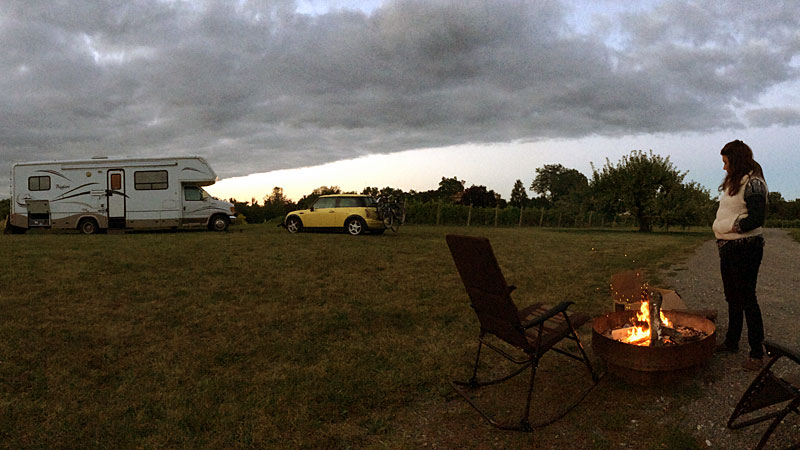 Our RV spot (and fire) at Freedom Run Vineyard
Second, Freedom Run has great wines. Kim and I can be fussy about the wine we drink. She grew up in central California wine country, and I've learned to love Oregon pinot noir and sparkling wine. On this trip, we've tasted wine in several states but have mostly been disappointed. The Midwest, especially, has lousy wine. (And for some reason, folks in Wisconsin and Michigan grow and love fruit wines. To each her own, I guess.) After months of mediocre wine, it was great to find a place that produced the sorts of wines we love. We didn't just buy one or two bottles at Freedom Run; we bought almost a full case.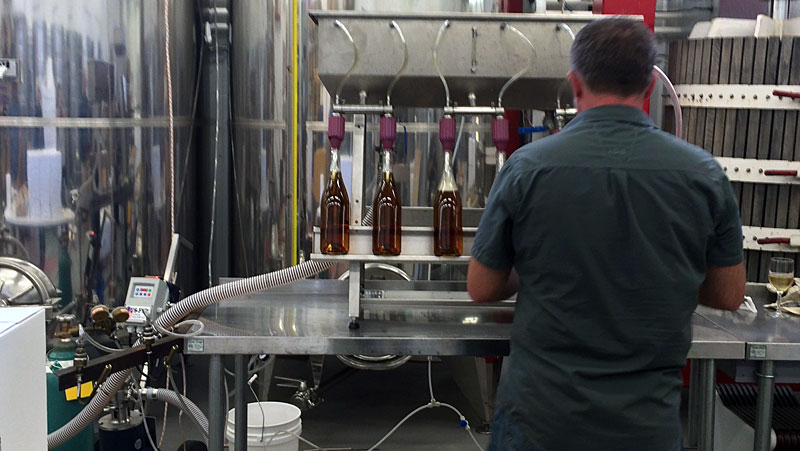 One afternoon we were put to work bottling Applejack…
Third, the location was fantastic. Freedom Run rests on the edge of the Niagara Escarpment, a long line of bedrock running through the Great Lakes area. The softer rock to the north of the escarpment has eroded through time, which means the land to the south sits at higher elevation. (This delineation is most famously seen at Niagara Falls itself, where the Niagara River cascades over the edge of the escarpment.)

The incredibly beautiful Niagara Falls (click to enlarge)
We used Freedom Run as our base for a couple of days while we explored the area.
One morning, we packed up our bikes and crossed the border into Ontario, Canada. There we parked the Mini Cooper and cycled through town, following the Niagara River up to the falls themselves. We were fortunate to visit on a day with amazing light. Seriously, the photos we took here might be the best we've captured on this trip.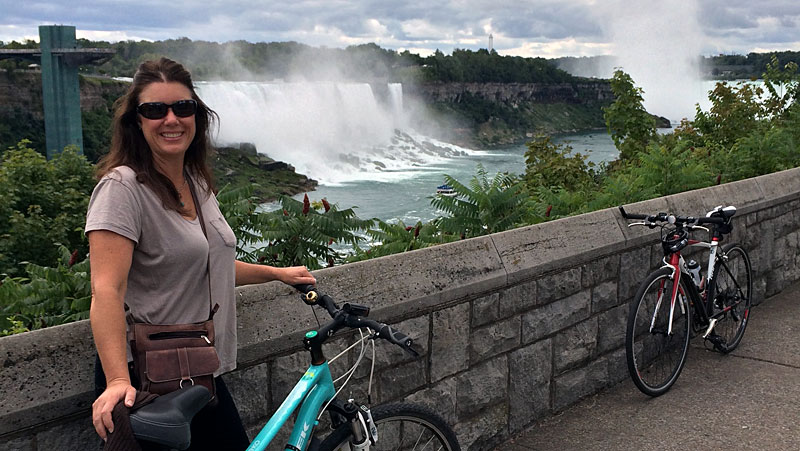 We were also pleased to spend an evening with Roy and Sue, a couple we'd met while camping near Canyonlands National Park in May. When they heard we were in the area, Roy and Sue motorcycled up from their home in Mount Morris to have dinner with us in Lockport. Larry at Freedom Run made us reservations at Danny Sheehan's Steakhouse, where we had a delicious meal — and leftovers.
Taking Care of Business
Although Kim and I wanted to stay longer at Freedom Run, we decided it was time to move on. Over the previous couple of weeks, our motorhome had begun to exhibit a variety of problems and we wanted to get them fixed. We drove east to Rochester. There, we bought parts and tools to make several repairs ourselves, and we left the RV with the folks at Camping World to address the problems that were beyond our capabilities.
In the process, we solved (we hope) a mystery that has plagued us for months.
You see, I bought new tires for the Mini Cooper last autumn in Portland. I expected them to last twenty or thirty thousand miles. In Moab, Utah, however, we discovered the rear tires were almost bald. We had to replace them after only two months on the road. Then we had to replace them a month later while we were in Montana's Flathead Valley. Then we had to replace them again two months later in Cleveland.
We asked tire people why we were burning through rear tires so fast. They didn't know. We asked other trailerites why we were burning through rear tires so fast. They didn't know. I asked my friends online. They didn't know. Two folks — my ex-wife's boyfriend and Mr. Money Mustache — came up with the same theory, however. "The car could be fishtailing subtly due to oscillation in the tow pattern," they said. "Maybe watch it or ride in it to feel if it zig zags?"
Turns out they were right.
The Camping World mechanic shook his head when he saw the tow bar. "You've been towing this way for 10,000 miles?" he asked. It was clear he didn't believe me. "I'm surprised you haven't lost the car already." He showed me what he meant.
When I took the tow bar apart and put it back together in March, I'd done it correctly — except for two pieces. I'd mounted a couple of brackets 180 degrees from where they ought to have been, essentially flipping them upside down. As a result, the tow bar was sliding in and out of its mount. I thought it was supposed to do this, to provide some "play" as we went around corners. Nope. Not supposed to do that at all. Instead, the tow bar is supposed to lock in place, firm and secure.
Translation? For the past five months, the Mini Cooper really has been fishtailing — and not so subtly. "The tow bar hasn't been doing a damn thing," the mechanic told me. "You've been towing the car by the backup cables this whole time."
And that, my friends, is why I'm not a mechanic.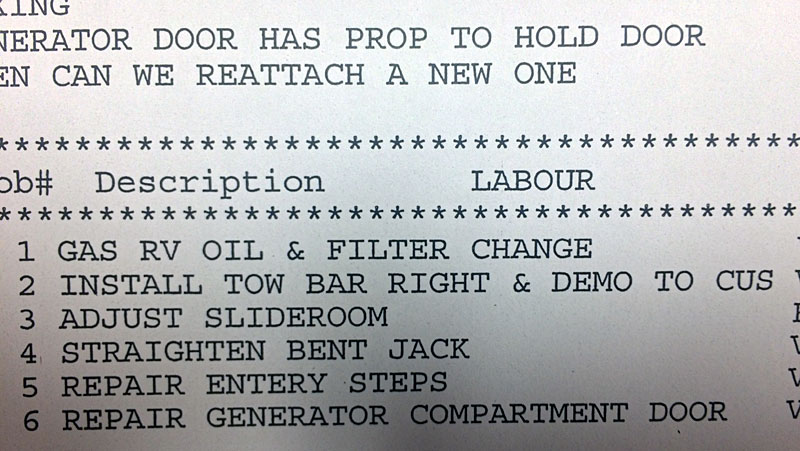 "Install tow bar right" = "You are stupid, J.D.!"
Cooperstown
After the RV repairs, we dove deeper into New York. Initially, we'd planned to spend several days exploring the wineries around the Finger Lakes region. But in a move uncharacteristic of the Rothwards, we bypassed the area and instead made our way to Cooperstown.
Cooperstown is famous for a couple of reasons.
First, it was founded by William Cooper, father of the famous novelist James Fennimore Cooper, who used this area as basis for many of his books, including The Last of the Mohicans.
Second, Cooperstown is home to the Baseball Hall of Fame.
As a lifelong baseball fan, I was eager to visit Cooperstown and to visit the museum. The exhibits were fun and interesting, no doubt, but I felt a bit let down. Part of that is probably because I already know a lot of baseball lore; the hall of fame rehashed stuff I already know. Another reason might be the chaos created by so many kids running around on the Sunday we were there. Their rowdiness was a true distraction from the experience. Still, I liked the Baseball Hall of Fame much better than the almost-lame Pro Football Hall of Fame in Canton. (But not nearly as much as the excellent Rock and Roll Hall of Fame in Cleveland.)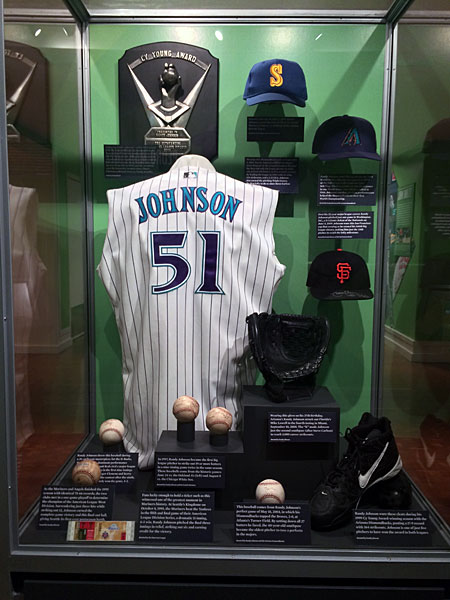 Randy Johnson is in the hall of fame!
Actually, the most enjoyable part of visiting Cooperstown was the surprising Farmers' Museum. This attraction had far fewer people and much more interesting exhibits than the Baseball Hall of Fame. The main building offers displays about different crops and farming methods. But the highlight of the museum is the historic village and the living farmstead.
The historic village at the Farmers' Museum includes maybe a dozen different historic buildings, which have been transplanted from their original locations around central New York to this spot in Cooperstown. There's a schoolhouse, a tavern, a newspaper office, a blacksmith shop, and several family homes. All of the buildings are old — like 1820 or 1840 old. (We don't get old buildings like that out west. In fact, one of my complaints about Portland is that everyone seems so eager to tear down buildings that are older than fifty or sixty years!)
Some of these buildings have been arranged into a small, operational farmstead. Here, volunteers (or employees?) grow flowers and vegetable crops. They raise cattle and horses and chickens and pigs.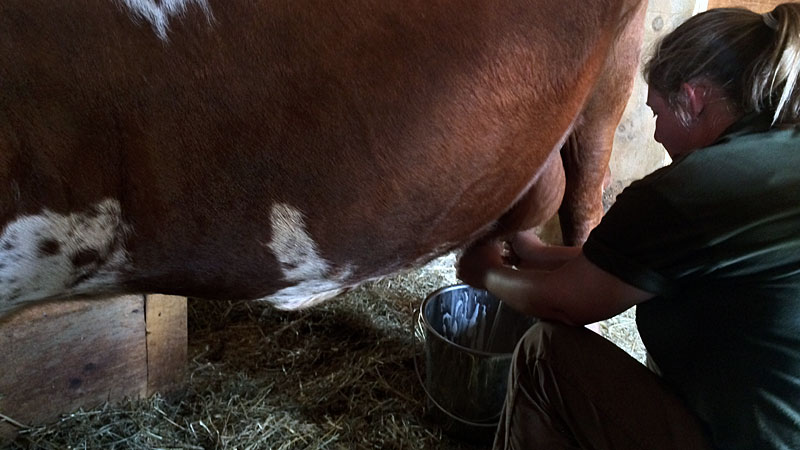 Milking time at the Farmers' Museum
And the best part of all this? The public is allowed to wander in and among the buildings and the farm, to interact with the animals and the people who tend to them. It's a lot of fun!
Moving On
Re-reading this, it sounds as if Kim and I spent a couple of weeks in New York. We didn't. We spent only six nights, and we saw only a small part of the state. But what we saw, we loved. In fact, we'll probably return to see more of the area before this RV trip is done.
Now, though, it's time to move on. Who knows where we'll end up next?