After two weeks touring the Great Lakes and the Great North Woods, Kim and I drove south to Shipshewana, Indiana to visit Amish country.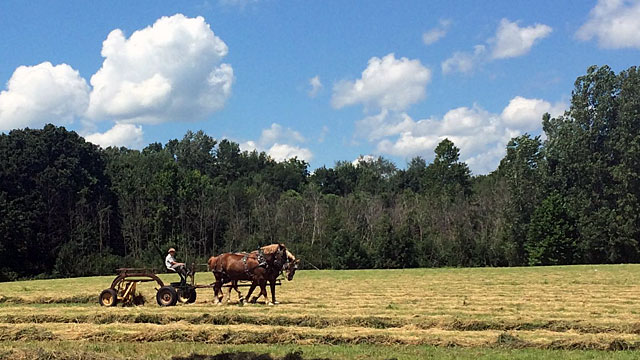 Before we looked around, however, we took a couple of days to decompress. As I've mentioned before, there are three types of days on this trip: travel days, touring days, and rest days. All three are important. Before arriving in Indiana, we'd been pushing ourselves with travel and touring days. We needed two days to unwind, which meant hanging around the motorhome, reading books and sipping wine by the fire.
Once we'd regained our strength, we explored the area.
First, we visited the Menno-Hof museum of Amish and Mennonite history.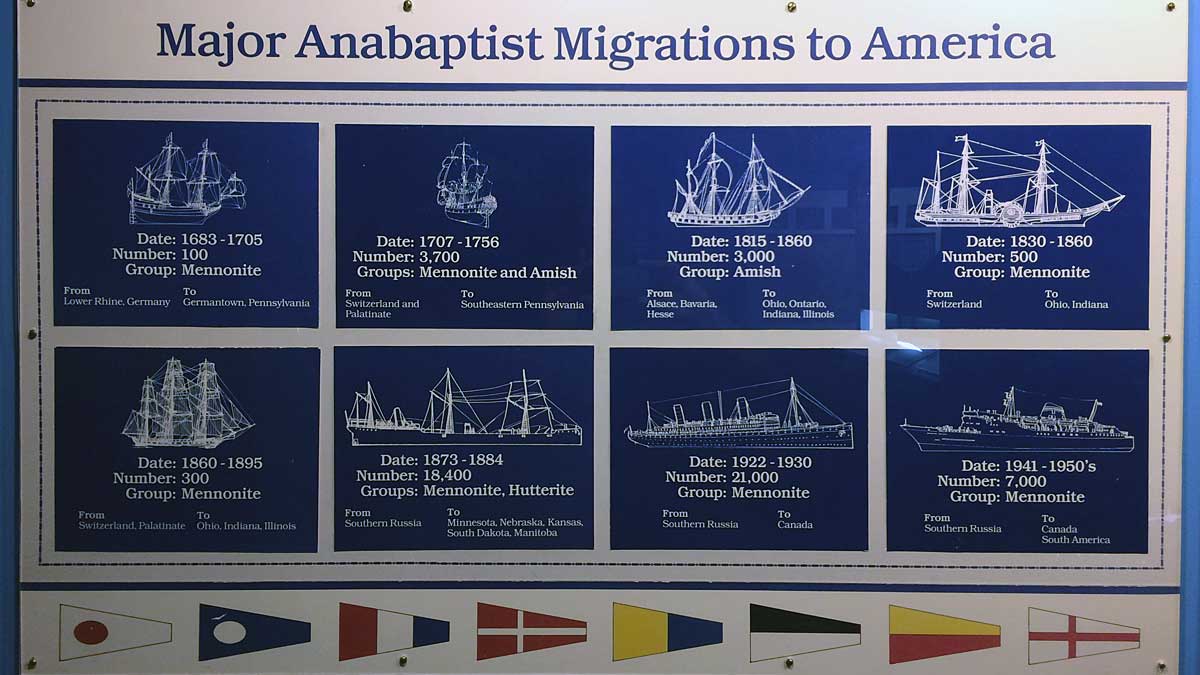 My family came to America in the third wave listed here
My Mennonite Roots
Most folks don't know a lot about Amish and Mennonites. They're part of a larger Christian group called anabaptists, which believe in adult election. That is, they reject the idea of infant baptism and instead argue that each person should choose to join the church when she is older and can make an informed choice. Then she can be baptized and become a member of the church.
The two groups share other common ideals, as well: pacifism, service, and so on. In fact, these two religions are more similar than they are different. I often explain it this way: Amish are like Mennonites who choose to reject a lot of technology. (Even this isn't quite accurate, but it'll do.)
When confronted with a new piece of technology, the Amish ask themselves, "Will using this bring me closer to God?" If the answer is no, they don't use it. If the answer is yes, they use it. If the answer is mixed, their response is mixed. Plus, different Amish groups have different answers to this question depending on their situation and the piece of technology. As a result, most Amish don't have phones in their homes…but some have phone shacks on the corner of their properties. And many are comfortable using phones for work. Similarly, most Amish don't own cars, but get around by horse and buggy. That said, some use motorized vehicles for work.
My father's family was Mennonite, and after we left the Mormon church when I was in high school, we rejoined the Mennonite congregation in which he'd been raised. Though I'm no longer Mennonite, there is much I admire about the religion. It's a part of me, deep in the roots of my soul. As a result, visiting Shipshewana and being exposed to so much Amish and Mennonite culture felt warm and reassuring.
Exploring Shipshewana
Our experience in Shipshewana was richer and more varied than it might have otherwise been because I have friends in the area. Phil and Kathy lived in Oregon nearly twenty years ago (!!!) and were part of my Mennonite circle of friends. When they learned that Kim and I would be in their neck of the woods, they kindly offered to connect us with people and places that we might want to see.
Thanks to Phil and Kathy's help: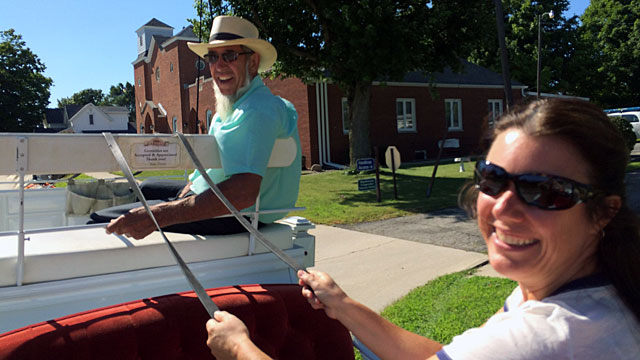 We went for a buggy ride through the countryside.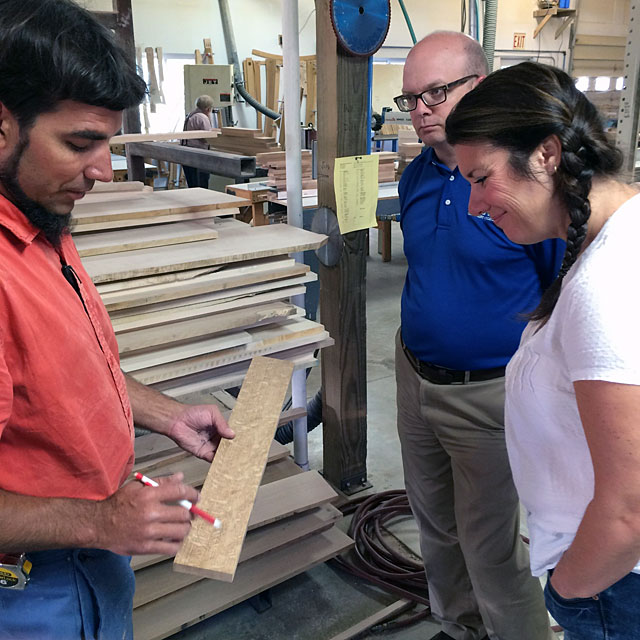 We visited a couple of Amish furniture factories.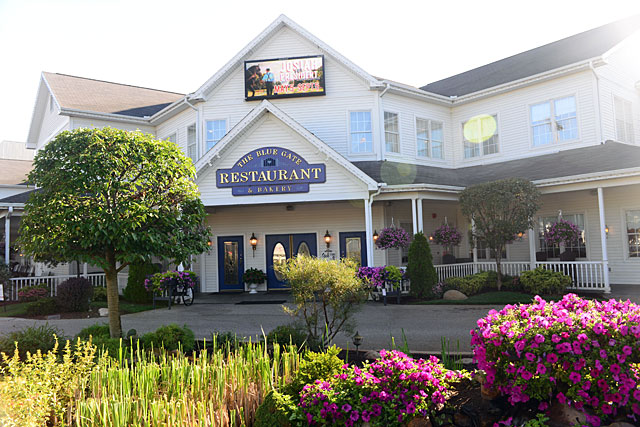 We had a delicious meal at the Blue Gate Restaurant before seeing Josiah for President, a musical about an Amish man who becomes President of the United States.
Plus we shopped at local stores — such as Yoder's Meat and Cheese and E+S Sales (which is like Costco for Amish folks) — and visited the flea market and, best of all, sampled fried pies. Fried pies are almost exactly like Hostess fruit pies, except that they're made fresh every day. (I'm sure they're no better for you; they taste almost exactly the same.)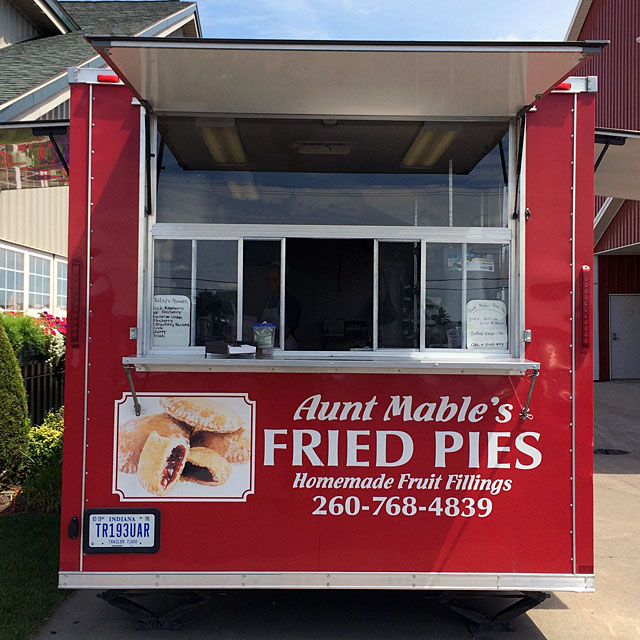 "Ohmygosh," Kim said as we ate our supper at the Blue Gate Restaurant. "Now I see why you don't eat vegetables."
"What do you mean?" I asked.
"Look at our food," she said. "And look at the tables around us." I looked around the restaurant at what everyone was eating. They all had plates of meat (ham, turkey, beef) and starch (potatoes, beans, noodles) but there were few vegetables to be seen.
"Heh," I said. "Yep, this is just like the food I remember eating when growing up. Just like grandma used to make." Grandma didn't serve salads.
A Home-Cooked Meal
To conclude our week in Amish country, Phil and Kathy invited us to enjoy supper at their home. Kathy and her kids cooked dinner for us and showed us their animals.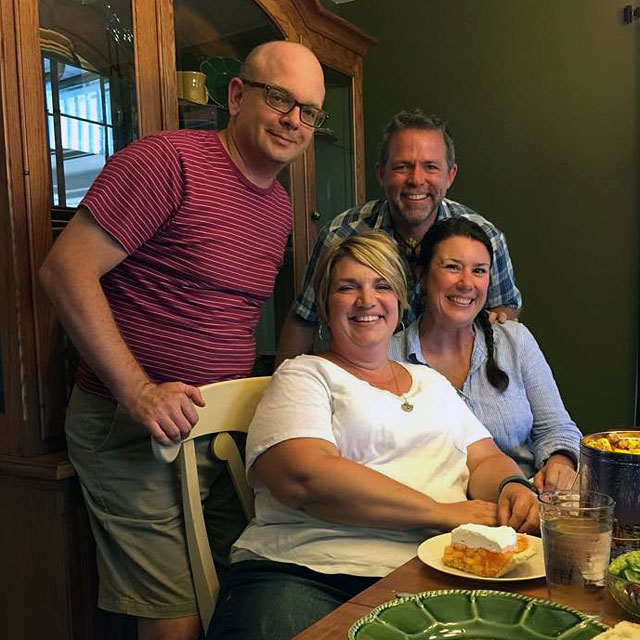 Phil and Kathy and J.D. and Kim…and a home-cooked meal!
After dinner, Kim went for a bike ride with Phil and Kathy's dinner. I sat on the porch and talked with my old friends and talked about life in the Midwest versus life in the Northwest. It was all warm and homey and lovely.
Kim and I enjoyed our time in northern Indiana, but after a week in one place it was time to move on. We packed our things and drove south toward Indianapolis…